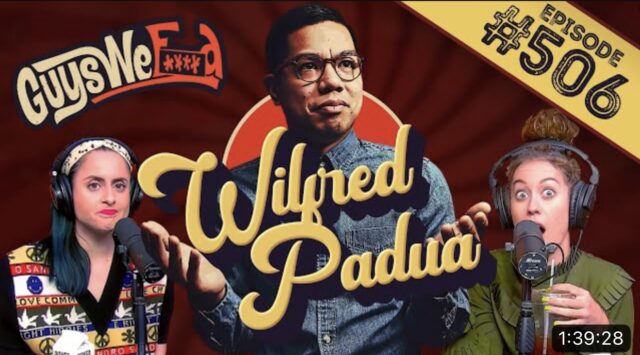 Guys We Fucked is a weekly podcast hosted by New York-based comedians Corinne Fisher and Krystyna Hutchinson, collectively known as the comedy duo Sorry About Last Night.
Described as an "anti-slut-shaming" podcast by the show's hosts, Guys We Fucked (GWF) deals with issues around sex-positivity and politics and features frank and open conversations with comedians, actors, musicians, sex workers, sexual health professionals and activists. GWF podcast creators and hosts, Corinne Fisher and Krystyna Hutchinson, first met in New York City when Hutchinson became an intern at a talent management company where Fisher worked as a talent manager's assistant. Prior to moving to New York, Hutchinson lived in Pennsylvania and Fisher grew up in New Jersey.
In 2010, Hutchinson landed an internship at Saturday Night Live and a writer for the show suggested that if Hutchinson wanted to eventually perform on SNL she should try stand-up comedy. Hutchinson invited Fisher to her first stand-up set; Fisher was already performing stand-up comedy at the time. Consequently, Fisher asked Hutchinson if she would be interested in working on a comedy act and later that year they launched a live comedy show called Sorry About Last Night, a name they would also adopt for their comedy duo. During the Sorry About Last Night shows, the hosts would invite an audience member onstage to tell a story about how someone did them wrong, with the requirement that the audience member had this other person's phone number. After telling the story, the hosts and guest would prank call that person.
In 2013, Fisher had what she described to Mother Jones as a "nervous breakdown" after an unexpected breakup with a man she had hoped to marry. Fisher sought Hutchinson for solace and got the idea to have a show where she could interview her ex-boyfriends and lovers to find out where things went wrong, similar to John Cusack's character in the 2000 film High Fidelity. In December of that year the duo launched the GWF podcast.
In this week's episode, Corinne and Krystyna help a listener who had a woo-woo dream about her ex and now needs to find him. Mike talks about emailing Randy Newman while feeling especially emotional, Lewis Capaldi's new song doesn't pass the Corinne Test™, body positivity is kind of bullshit, but Krystyna-approved self-help author Michael Singer is not. Today's Guys We Fcked guest is stand-up comedian WILFRED PADUA. The group discusses finally being open to serious romantic relationships, never hearing 'I love you' from your parents, and seeing your c*m for the first time.