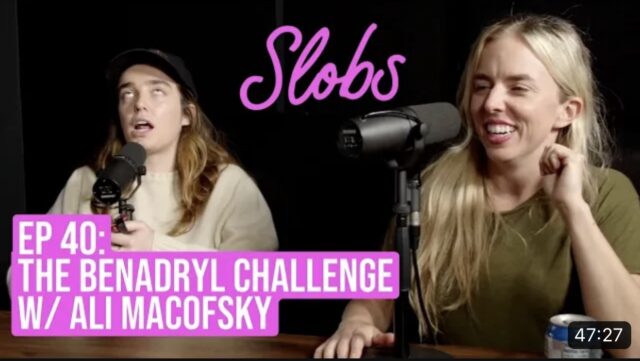 We've all got a little slob in us.
Meet Jessica Michelle, Lara Beitz, and Steph Tolev, three friends who are stand-up comics.
From the outside, they may appear driven, focused and together, but a closer look reveals the absolute pigs within. For an hour each week, they share their dirtiest secrets on their weekly podcast entitled Slobs.
Recorded regularly inside The Comedy Store in Los Angeles, California, in this week's episode titled The Benadryl Challenge, comedian Ali Macofsky joins the podcast as the group discusses various topics including the craziest new viral challenges.
Ali Macofsky: Ali Macofsky is a stand-up comedian, actress, and writer who began her stand-up comedy career shortly after high school. She quickly established herself in the Los Angeles comedy scene where she became the first regular to perform on over 100 episodes of the Comedy Store's weekly Kill Tony podcast. She most recently went on tour opening for rock musician, St. Vincent, across the US. Her stand up has been featured on Just For Laughs digital receiving over 3 million views. She has a popular series on Instagram, where she talks to strangers online and hosts a podcast called Resting Bitch.