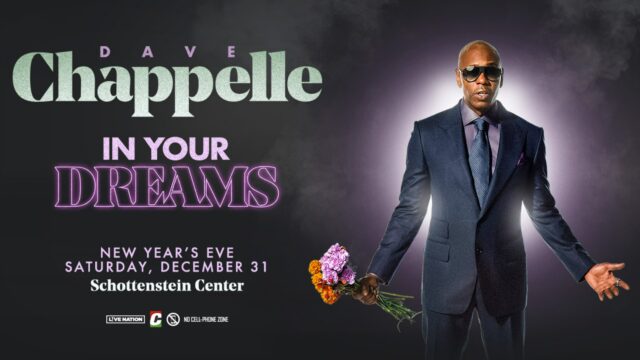 Comedian Dave Chappelle is bringing his stand-up comedy show to Columbus for a New Year's Eve performance.
"Dave Chappelle: In Your Dreams" will take place Saturday, Dec. 31, at 9:30 p.m. at the Schottenstein Center. Tickets go on sale starting on Friday, October 7 at 10 a.m. on Ticketmaster.com.
The Netflix star's last performance in Ohio was at the Wirrig Pavilion in Yellow Springs this August as part of his "Chappelle and Friends" summer comedy series. He was originally cleared to host a total of 24 "cornfield" shows in his hometown, however, a total of just 11 performances took place between May and August.
In September, Chappelle traveled across the Atlantic, where he and comedian Chis Rock paired up in London for performances at the O2 Arena.
Additionally, Chappelle took the stage at the Taylor Hawkins Tribute Concert held at Wembley Stadium, which was followed up with a second tribute performance last Tuesday in Los Angeles.
As with other Chappelle performances, the show has a strict "no cell phones allowed" policy, with requirements such as placing phones and smartwatches in a locked pouch. Fans are also warned that "anyone caught with a cell phone inside the venue will be immediately ejected."
Dave Chappelle, mastermind behind sketch comedy goldmine Chappelle's Show, made a triumphant return to stand-up comedy in 2013. While he's beloved for his famous impersonations of Rick James and Prince, Chappelle doesn't rely on old material for his stand-up act, treating fans to an all-original show featuring extensive improvisation as he interacts with audiences. At his 2013 performances on The Oddball Comedy & Curiosity Festival, which he co-headlined with Flight of the Conchords, Chappelle had fans rolling on the floor, building anticipation for his highly coveted 2014 tour dates.
Born David Khari Webber Chappelle in Washington, D.C., Dave Chappelle studied theatre arts in high school before moving to New York City to pursue standup comedy. Despite getting booed off stage at the Apollo Theater's infamous "Amateur Night," he remained resilient, going on to make a name for himself on the New York comedy circuit. Following several successful film appearances in the '90s, including a starring role in 1998 cult classic Half Baked, Chappelle debuted his namesake sketch comedy show on Comedy Central in 2003, finding both critical and commercial success. In 2006 he released Dave Chappelle's Block Party, a concert film set in Brooklyn featuring performances by Kanye West, The Roots, and a temporarily-reunited Fugees.
According to the press release, no cellphones, cameras or recording devices will be allowed at the show.
All phones and smartwatches will be secured in Yondr pouches that will be unlocked at the end of the show.
Guests will maintain possession of their phones throughout the night and may access their phones at designated unlocking stations.
Anyone caught with a phone in the venue will be immediately ejected, according to the release.